The Treatment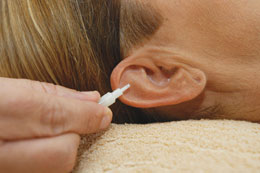 The treatment provides counselling, examination, disinfection, implantation documentation and aftercare. Before using an implant, the therapist will identify the exact disease pattern by detailed case history compiled with the help of the patient. The examination reveals how many needles should be implanted and exactly where. Furthermore, every patient needs to sign a declaration of consent.
Implant-Acupuncture doesn´t need any narcotic drugs. The skin will heal within minutes. Patients are able to shower the same evening. Sleeping on the right or left ear is possible from the first night on. Ladies (and men) shouldn´t wear earrings for two days after the procedure.
Side effects are very rare. There is a slight chance for bleeding, infection or cartilage damage. Up to now, we have implanted more than 5.000 needles. None of the above side-effects have been occurred in our practice, but were reported by others.
Even patients under Marcumar- or Warfarin-medication can be treated with Implant-Acupuncture. There is no higher risk of bleeding in comparison to other patients.
The needles are not magnetic and X-rays of the brain can be performed (e.g. MRI or CT-Scan). In result, Implant-Acupuncture is a very safe method.
We recommend regular aftercare by telephone and E-mail contact.